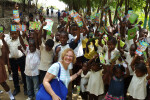 The trip was a major success. Praise God! I'm so thankful to have been able to participate in a John Smithwick Ministries International Crusade while on a Global Ventures Team Trip.
May I encourage you to go to www.globalventures.tv and watch the videos of previous trips including an episode on a team trip taken to Haiti in 2011 a year after the devastating earthquake of 2010. You will see the faces of the people who were affected by loss of homes and family. You will also see the compassion of God healing a man who was paralyzed on the left side of his body. He got up and walked by the power of God! There is also a portion of video about a village witch doctor who demonstrates his demonic control by eating hot embers from a fire. Sadly he refused Jesus.
Traveling on these team trips changes me and my world. I can never be convinced that God no longer heals today. While we were there several people were healed of eye problems such as pain and blindness. Some of those healed were precious 10-year-olds. They believed the story of Jesus and put their faith in Him and received their healing. He will do the same for you. Jesus is alive. He healed while He was on the Earth and He still heals today!
It blessed my heart and filled me with emotion to see and hear the crowds of people praying and asking Jesus to forgive them, thanking Him for dying on the cross for them, and shouting out "Jesus be my Lord! Jesus be my Saviour!" Forever changed! A people changed! A country changed! Glory to God!
The Gospel message is simple. Even little children understand that God created us to be close to Him. But the bad things we do separate us from Him. God didn't want us to be separated so He sent His Son, Jesus, to show us how much God loves us. Jesus showed God's love and compassion by healing people. Some men were jealous of Jesus and they nailed Him to a cross. This was part of God's plan to pay the price for our sins. But after three days something glorious happened. Jesus rose from the dead and is alive today. We can trust Him with our lives. We can get close to Him and develop a deep intimate relationship with Him.
If this is the longing of your heart, come join us at Believers Destiny Church. We will help you develop an intimate relationship with God that will sustain you and fill you with the peace, and, joy, and purpose in life you desire.
Sign up for a team trip with Global Ventures and change your world.
Thank you for reading my blog. When you come to a service at Believers Destiny Church please ask for me. I would like to meet you personally.
His Passion My Mission,
Pat Gotto