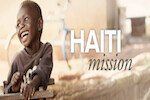 Well, the journey begins...last night in my own bed. I'm laying here trying to remember how many pairs of pants I packed. :) I think I will repack my suitcase in the morning to remove any truly unnecessary items. I need my suitcase to be under 40 lbs so I have room for souvenirs to bring home.
I need to use my wait till in the airport tomorrow morning to work on my memorization assignments for our ministry. I need to brush on one part in particular. We minister in teams and I don't want to let my teammates down by not knowing my part.
I spent a lot of time in prayer today for the people of Haiti. I wept a lot thinking of how blessed I am to live the rich lifestyle I live compared to what I will see in Haiti.
The alarm will ring at 2:30 am to allow me time with the Lord, shower, dress and repack.
His passion is my mission.
Patricia Gotto